MOKA POT
---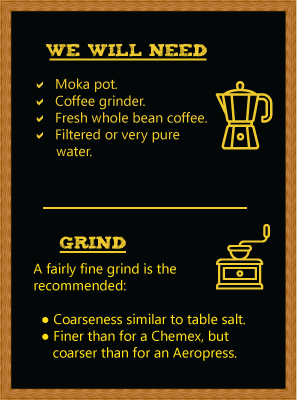 ---
HERE ARE THE STEPS:

1. We grind the amount of coffee we need to completely fill the size coffee filter we are using.
---

2. We fill the pot with water up to the valve.
---
3. Fill up with ground coffee in the filter. It should fill until the brim of the filter and you can press softly on it to spread it evenly, but only lightly.
---

4. We screw the pieces and put the lid.
---

5. Turn on the heat up to medium – high.
---
6. Turn the heat down when coffee begins to come out the top and start take of the heat source when it starts to hiss.
---
7. A good trick: when you remove the pot from theheat, wrap the bottom of the pot with a cloth dipped in cold water to quickly lower the water temperature and prevent over-extraction.
---
8. Done, you can serve the coffee. Enjoy!
---
What we get from a Moka Pot brewer can be enjoyed like an espresso, but being very "heavy" and containing high amounts of solid particles it's better adding water to make it an Americano or (for us) the best drink for a Moka Pot  brew is a latte by adding milk.